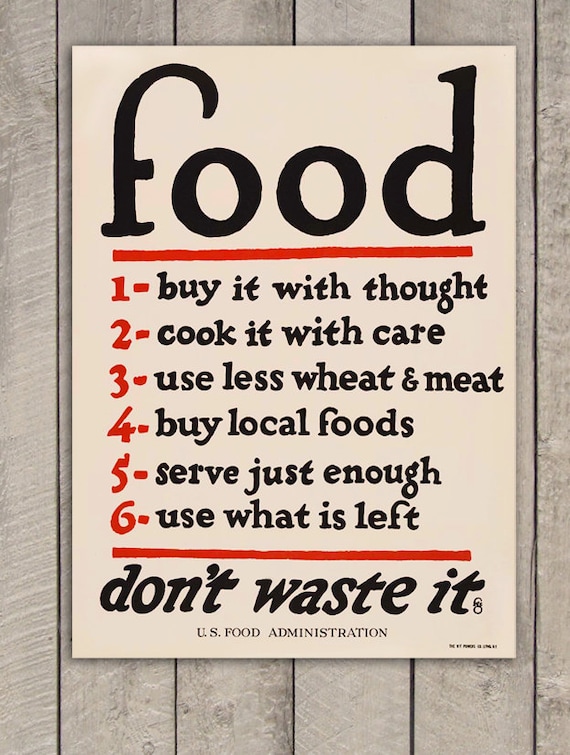 amazing poster from the US Food Administration in 1914 (advice still totally applicable today, almost 100 years later!), reproduction available via etsy
Hope you had a fantastic weekend! In between taking care of a sick baby, I did a lot of laundry and a whole lot of cooking. I made pumpkin bars for a funeral, banana muffins to use up the sad bananas on my counter (while I'm still holding out on the purchase of a new blender), applesauce to use up some neglected apples, and a double batch of delicious enchiladas (with more filling in the freezer for another day). Sunday dinner was a version of "let's pretend it's summer"- pulled pork sandwiches on homemade rolls, cole slaw, veggies and dip, and corn cut off the cob and bagged during last summer's bounty. I'm slowly making progress on things around the house, but a productive day in the kitchen makes me feel like a rockin' homemaker no matter the messes that abound. I doubled the roll recipe and the pork so I have another dinner ready and waiting in the freezer in addition to my extra pan of enchiladas, and that, my friends, is satisfaction.
I wanted to share my favorite enchilada recipe. During one of the dairy-free bouts I've been through with my boys I came across this version for red enchiladas instead of creamy green enchiladas that were already in my cookbook, and I haven't looked back. When I make dairy-free enchiladas, I just omit the cheese from half the filling and don't top that half of the pan with cheese (obvious, I'm sure, but thought I should clarify). The original recipe does not call for beans or the peppers or mushrooms, so you can omit those and increase the amount of chicken to 3 cups, but I liked adding the extra fiber and vegetables and no one seemed to notice the difference. I included my notes in the recipe in italics so you can see how I adapt it for my family. Enjoy!
Easy Chicken Enchiladas
(adapted from "
The America's Test Kitchen Cookbook
")
2 cups shredded cooked chicken (1 pound)
1 can black beans, rinsed and drained (can be omitted, but increase amount of chicken to 3 cups)
1 bell pepper, finely chopped (I had a bag of mini red, yellow, and orange and probably used one large of each color) (can be omitted)
6-8 mushrooms, finely chopped (can be omitted)
12 ounces sharp cheddar cheese, shredded (3 cups) (I usually cut back to 2 cups of cheese)
2 1/2 cups
enchilada
sauce (use provided
recipe
or 20 ounces in the can)
1-2 (4-ounce) cans chopped green chiles, drained (I use 1 can)
1/2 cup minced fresh cilantro (I've made it without this and it's still great, but the husband does love cilantro)
12 (6-inch) soft corn tortillas (I use cooked fresh flour tortillas, and I usually use enough for however much filling I make, not always 12)
Adjust an oven rack to the middle position and heat the oven to four hundred degrees. Combine the chicken, 2 cups of the cheddar cheese, 1/2 cup of the
enchilada
sauce, the chiles and cilantro. Season with salt & pepper to taste. Stack the tortillas on a microwave-safe plate, cover with plastic wrap and microwave on high until warm & pliable (approximately 1 minute). Spread the warm tortillas out over a clean counter. Place 1/3 cup of the chicken mixture evenly down the center of each tortilla. Tightly roll the tortilla around the filling, then lay seam-side down in a 9x13" baking dish lightly coated with vegetable oil spray. Lightly spray the enchiladas with vegetable oil spray. Pour 1 cup of the remaining sauce over the enchiladas to coat thoroughly. Sprinkle the remaining 1 cup cheddar down the center of the enchiladas. Cover the baking dish with foil and bake until the enchiladas are heated through, 20-25 minutes. Remove the foil and continue to bake until the cheddar browns, about five minutes longer. Serve, passing the remaining 1 cup of sauce.
Fast

Enchilada

Sauce
(I love this recipe because I always have these ingredients on hand- perfect!)
1 tablespoon vegetable oil
1 onion, minced
1/2 teaspoon salt
2 teaspoons chili powder (can add up to 3 tablespoons depending on your family's tastes)
3 garlic cloves,minced
2 teaspoons cumin
2 teaspoons sugar
2 (8-ounce) cans tomato sauce
1/2 cup water
Pepper
Heat the oil in a 12" skillet over medium heat until shimmering. add the onion and salt and cook until softened, about five minutes. Stir in the chili powder, garlic, cumin, and sugar. Cook until fragrant, about fifteen seconds. Stir in the tomato sauce and water. Bring to a simmer and cook until slightly thickened, about five minutes. Season with salt & pepper to taste.